Posted: March 1, 2011
New NVB Website
We are pleased to announce the launch of the redesigned website for the U.S. Bankruptcy Court, District of Nevada!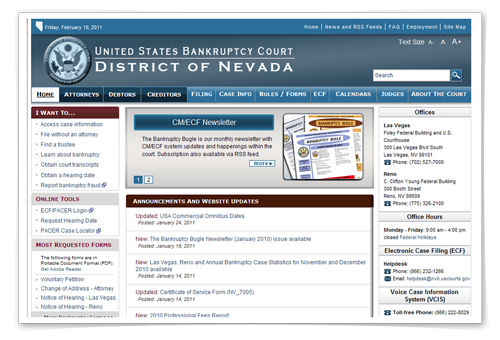 The court website has been redesigned based on feedback from our users to improve navigation and provide enhanced online tools and content. Following is an overview of the new features and functionality you will find on the site.
Home page - Access to most requested forms, lists of all available online tools and quicklinks to get you where you need to go are available from our home page. In addition, our main feature area in the top center of the page will highlight major announcements or important events you should know about.
Enhanced navigation - The main navigation has been enhanced by allowing you to hover your mouse over each category and see what content is accessible for each category helping you identify and access the content you need right away.
Attorneys, Debtors, Creditors Sections - Access these areas from anywhere within the site now that they are part of the main navigation. Content has also been streamlined and selected to apply to these particular areas of business.
RSS Feeds - Subscribe to rss feeds such as Announcements & Website Updates, Local Rules News and The Bankruptcy Bugle Newsletter.
Control Font Size - You control how large or how small you want the font to be on the site with a click of the mouse for readability and accessibility.
Enhanced Content - Content has been restructured and rewritten for optimum quality and clarity to the user.
Frequently Asked Questions (FAQ) - The Frequently Asked Questions have been incorporated under the Filing category and are now broken out by topic to help you find answers you need quickly.
Online Forms and Tools - You may now submit a Request for Courtroom Technology and search available Self-Calendaring Dates online in a more interactive format.