Local Rule 7010. GENERAL REQUIREMENTS OF FORM
(a) Form of papers. After notice and hearing, any paper or pleading filed that does not conform to an applicable provision of these Rules or any Federal Rule of Bankruptcy Procedure may be stricken by the court on its own motion. Whenever there are more than five (5) plaintiffs or defendants in the caption of a complaint or third party complaint, the filing party must at the same time file an alphabetical list of the parties.
(b) Caption, title of court and name of case. In addition to the requirements of LR 9004, the caption must include the caption of the adversary proceeding as well as the caption of the case, including the adversary proceeding number. If a scheduling conference has been set, the complaint and answer must indicate that date in the space for hearing date and time, like this: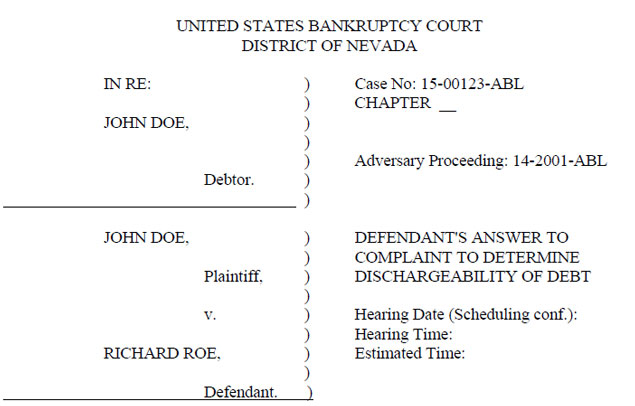 (c) Copies. For documents that are not electronically filed by the parties under the provisions of LR 5005, the clerk maintains a list of copy requirements on the court's website that specifies the number of copies to be submitted. The copy requirements may be revised from time to time, and when they are revised, the list of copy requirements will be reissued in full with a notation of the effective date of the revision. The list of copy requirements is available from the clerk and is posted on the court's website.
(1) Unless otherwise required, attorneys or persons appearing pro se must submit the original pleadings, summons, orders, or other papers and the required number of copies.

(2) If anyone filing a document wishes to receive a file-stamped copy of it, the filer must submit one (1) additional copy. Filers who wish to have the file-stamped copy returned by mail must include a self-addressed, stamped envelope.